2015 Nissan Pathfinder: Find your path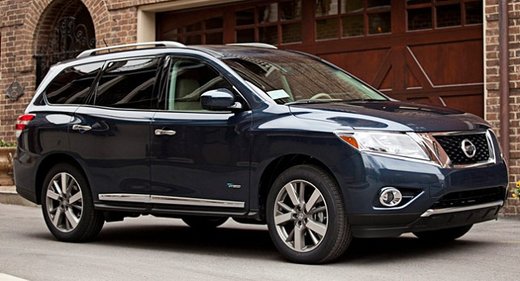 Truly, the 2015 Nissan Pathfinder is one of the better-designed and affordable SUVs currently on the market. With plenty of trim options (as well as an available Hybrid version), the 2015 Nissan Pathfinder is sure to please even the most discerning buyer.
Redesigned just a few years ago, the Nissan Pathfinder holds strong in its segment as one of the better looking models currently available. With a signature v-shaped front grille and dynamic sporty accents throughout, the 2015 Nissan Pathfinder isn't just your typical boxy SUV. This is a modern, stylish SUV that's designed to turn heads on the road (even the muddy ones).
Speaking of mud, the 2015 Nissan Pathfinder offers a class-exclusive driver selectable mode system that allows the driver to switch between 2WD and 4WD lock in order to better preform on sketchy road surfaces and off-road terrain.
Another class-leading feature is the 2015 Nissan Pathfinder's interior space and premium seating for seven passengers. The third row was designed with comfort and space in mind, and two adults can comfortably fit back there (and for longer than 5 minutes!). There's also 453 litres of cargo space behind the third row when it's up.
Of course, those aren't the 2015 Nissan Pathfinder's only features: it also boasts an all-around view camera ideal for parking situations and off-roading. There's also an available 7" or 8" colour screen for infotainment and navigation purposes. Satellite radio and Bluetooth are also optional add-ons.
Regardless of which 2015 Nissan Pathfinder you opt for, you'll find a 3.5L V6 mill which produces 260 horsepower and 240 lb-ft of torque. In the Hybrid version, that engine changes to a 2.5L 4-cylinder. The featured transmission in the 2015 Nissan Pathfinder is an Xtronic CVT that helps improve fuel economy numbers.
In the 2015 Nissan Pathfinder you'll see a fuel consumption range from 11.9L to 12.7L/100km in the city, whereas the hybrid will see 9.1L/100km in the city and 8.5L/100km on the highway.
The 2015 Nissan Pathfinder is all about getting wherever you want and need to go in comfort and with a bit of style. This affordable, reliable SUV is built to last and built to meet your every need. Be it in the city or on a muddy trail, the 2015 Nissan Pathfinder is sure to satisfy your driving and passenger needs. Plus, with the added bonus of a Hybrid version, you'll be able to do it all without spending a fortune at the pumps.
Head down to Belvédère Nissan today to find out more about the 2015 Nissan Pathfinder, and make sure you book a test drive today, too.