2015 Nissan Leaf: still the best electric vehicle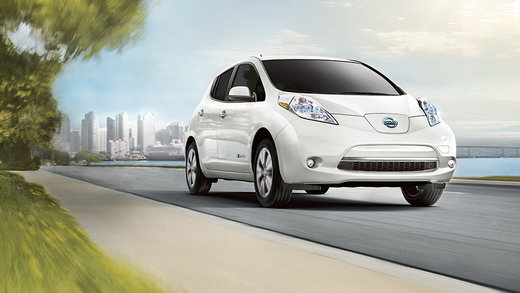 2015 Nissan Leaf: still the best electric vehicle
In any segment of the automotive industry, there is always a model that stands out simply because it was a pioneer, the first of its kind to be offered to consumers. That definition applies to the Nissan Leaf, which is considered the first fully electric car to be offered to consumers.
Launched on the market in 2011, it is by far the most popular electric car on the market right now. Unique, the Nissan Leaf is obviously very environmentally-friendly, but it is also fun to drive every day, especially in the city, its favorite playground.
Priced from $ 31,998 ($ 33,888 before taxes with preparation and delivery costs), it is important to note that the price of the Nissan Leaf is significantly reduced when one takes into account the $ 8,000 government incentive available in Quebec. It is therefore possible, once taxes and fees included, to drive a Nissan Leaf for less than $ 30,000.
Regardless of which version Leaf buyers choose, there is quite a bit of equipment. The 2015 Nissan Leaf comes standard with a backup camera, Bluetooth telephone system, intelligent key with push-button start, and front and rear heated seats.
The SV version adds a fast charging port (see below) and a navigation system along with 16-inch alloy wheels. The SL model meanwhile adds 17-inch alloy wheel, an AroundView camera, leather seats and fog lights.
No doubt, there is a lot of equipment in the 2015 Nissan Leaf. But what interests consumers more is the electric motor and all the eco-friendly features of the car.
The Nissan Leaf's motor fills the expectations
The Leaf is moved by an 80-kW electric motor powered by a lithium-ion battery offering a range that can reach 160 kilometers. In 2013, the battery charger moved from the back of the vehicle to the front, thus offering more space for luggage, and easier charging. The latter will take about 20 hours with a traditional power outlet, but it is possible to charge the Leaf in 7 hours with a 240 volt outlet. In addition, the fast charging port reduces charging time to 4 hours. Finally, a CHAdeMO system can charge the battery to 80% in 30 minutes.
On the road, the Nissan Leaf is fun to drive and feels like a completely normal car, except that it is absolutely silent which consequently improves comfort.
Making the leap to electric is a big step, but it shouldn't scare you. Come chat with one of our representatives today to learn more!